We know we should be 'adding value' to our followers on Social Media, but what does that really mean? How do we do this on an ongoing basis?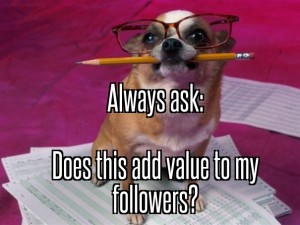 Value can mean a whole lot of different things – what do you like to see on your Social Media feeds? Here are some ideas that will help you continue to add value to your followers.
Relevant Memes and Cartoons
We all love to laugh, and funny jokes, memes and cartoons get shared. Make sure you the memes you post are relevant to your business or industry, and are not offensive.
Article links
There are always articles that relate to your business or industry, whether they be on local media, national media, international media, or industry websites. Keep an eye out and share these articles with your followers.
Behind the Scenes
We all love to get a glimpse of what goes on behind closed doors, whether manufacturing, staff news, or seasonal pictures. Behind the scenes posts also give your business a personal touch, allowing your followers to better identify with your company – and we all like to buy from our friends!
Information
It is frustrating to turn up at your favourite café for lunch on a long weekend only to find they are closed, but it wasn't on their Social Media that you checked before leaving home. Putting this information onto your Social Media feeds certainly adds value to people. Other information that you could add are number of tickets left for your event, parking options near your business, or a new range of products you are stocking.
How to Use Your Product
Showing people ideas of what they can do with your product, putting the product into the user environment. We all need new ideas and how I can use what you are selling, whether it is new recipes for your ingredient or wine match, or a family celebrating a special occasion in your café (make sure you check they are okay for you to post their picture!), giving people a sample of using your product will help inspire them.
There are many other ways you can add value to your followers, just think outside the box and embrace this new way of marketing.